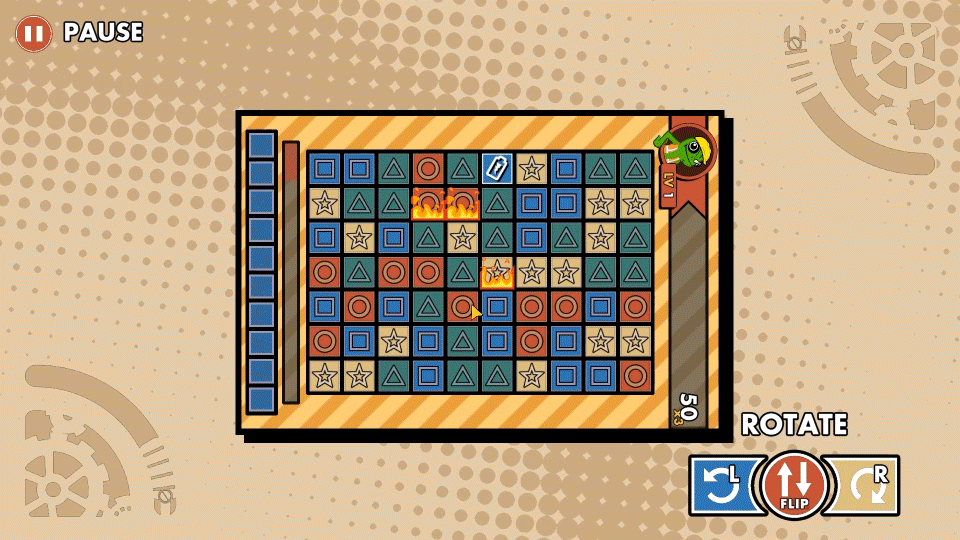 vlcsnap-2022-06-14-18h41m30s544
vlcsnap-2022-06-14-19h47m34s435
Collapsus 8 Player multiplayer
vlcsnap-2022-06-14-18h41m30s544
COLLAPSUS

™

is a one-of-a-kind block-crunching puzzle game all about gravity manipulation and resource management!
​
Join

Leon the Chameleon

as you twist, tilt, turn, & flip your device as you solve your way through endless, mind-bending puzzles!
3 Standard difficulties + 2 Unlockable difficulties; each with Gravity Rush and Time Panic variations with endless gameplay

30 mind-bending Challenge Modes + 30 "Plus" Modes that add crazy new mechanics to the game

Super mellow Zen Mode, for when you just want to sit back and relax

Mission Mode, with 50 objective-based puzzle ops and 50 "Secret Missions" to amp up the challenge

A robust Puzzle Mode with over 300 single screen puzzles and a Puzzle Maker so you can share your own puzzle creations online

Free, unique, Daily Puzzles brought to your device every day

Multiplayer Battle Mode, where up to 8 players can battle it out for dominance online or locally

Online leaderboards for every mode, over 200 in-game Medals, and over 50 unlockable costumes, including cameos from some of your favorite indie games

Over 50 accessibility options for players with disabilities (including color-blind palettes, dyslexia-friendly font options, remappable controls, and more)
SEE WHAT WE'RE WORKING ON NOW!
"Collapsus has out Tetris'd, Tetris"
Q: Collapsus looks like "Bejeweled", "Candy Crush", or *insert generic 'match-3' game*. What makes Collapsus different?"

A: It's all about the mechanics. In fact, Collapsus isn't a match 3 game at all: At it's heart, Collapsus is a game about resource management! First, with Collapsus, you have a "break" meter at the bottom of your screen. Instead of swapping blocks, you break them; getting rid of them permanently. You then try to make lines of 4 or more blocks. But when that meter at the bottom runs out? THAT'S when it's Game Over. You only get "breaks" back in that meter when you make complete lines. There's real strategy to it. Second is your ability to rotate the gameplay field. You're always kept on your toes by the necessity of literally turning the field to get a better angle. Flipping the play-field around really adds a "new dimension" to the gameplay! So, other than a certain level of spacial reasoning and the fact that you're matching things, there's really nothing that make them all that similar. Unfortunately, gameplay videos and screenshots never really do it justice, you're better off learning the difference by hand!

Q: Collapsus looks a lot like "Tetris". What makes Collapsus different?

A: While we certainly appreciate the compliment, Tetris and Collapsus are very, very different games. For starters, Tetris is additive (played by adding blocks to the gamefield) while Collapsus is subtractive (played by removing blocks from the playfield). Both games have blocks, but ours are single blocks and Tetris has "tetrominos" made up of blocks acting as one piece. Other than spacial reasoning, the difficulty (Collapsus, like Tetris, is a puzzle game built to stretch your brain power), and the shared genre, the two actually don't have much in common from a structural standpoint.

Q: This looks like a lazy port from a mobile game!

A: Well, that's not actually a question, but we'll try our best to answer it anyway! Collapsus is designed natively for Nintendo, Sony, & Microsoft platforms as well as PC and mobile, right off the bat. We're working on all of these versions at the exact same time. We want as many people as possible to be able to play Collapsus, and thanks to our publisher, Ratalaika Games, we're releasing on all our platforms worldwide, on the same day!

Q: I've been following Collapsus for a while, when will it actually be done?"

A: Well, that's a bit tough to say. We're nearly there *for real*, but we still have some finishing touches to wrap up. The plan is to have it out to all our wonderful fans as soon as we can! However, if that's not quite good enough, you can follow our progress over on our Feature Board: https://www.wraithgames.com/collapsusfeatureboard

Q: Where are the pay-what-you-want early access builds?"

A: You can play them here: https://wraithgames.itch.io/collapsus

Q: This is chockful of intrusive ads and microtransactions, isn't it?"

A: Actually, no! Collapsus is a traditional game as far as pricing is concerned. There are no ads, no in-app purchases, and if we do have DLC (like our free, weekly puzzles), they're all FREE for the life of the game. You pay us once for the game, and it's all yours! There is a free demo version of the game with some things cut out, but to get what you're missing, all you need is to pay for the game normally! We're even planning to offer DRM-free torrents of the PC/Mac/Linux and Android versions of the full game. We're confident you'll like it enough to pay us for it once you've played enough!

Q: I'm a streamer, reviewer, blogger, etc. Can I cover Collapsus?"

A: Sure! We'd love for you to do that. Drop us a line with your channel/blog at press@wraithgames.com and we may be able to send you a review copy when it's out! You can find our Press Kit here: https://www.wraithgames.com/collapsus-presskit Also, if for whatever reason you want to do a fan game, fan art (or even fan fiction) of Collapsus (or any of our other projects), go right ahead just so long as you let everyone know it's based on our work! Send it our way and we'll try to give you a shout-out!